How would you like to measure your wrist?
Our bangles and bracelets come in custom sizes because they are designed for an ultracomfortable fit. An accurate measurement will help you get the size that's right for you.
1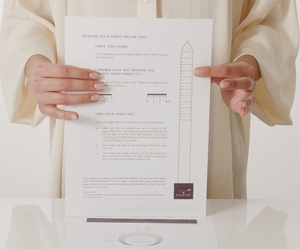 Print the page at the bottom of the file.

Prior to printing, ensure that Page Scaling is set to "None" on your
print dialog box.
2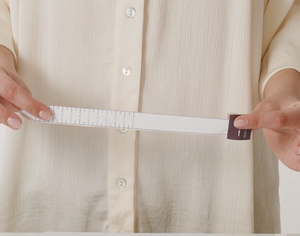 Confirm that you printed the wrist sizer correctly. Measure one of the bars on the page with a ruler to confirm the size is accurate.
3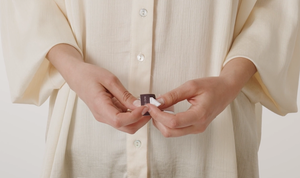 Cut out the paper Wrist Sizer.
Make sure that the numbers are on the outside of the paper Wrist Sizer and insert the pointed end through the slit you have cut at the other end indicated. Place your hand through the Wrist Sizer and pull the pointed end until it fits comfortably on your wrist.
4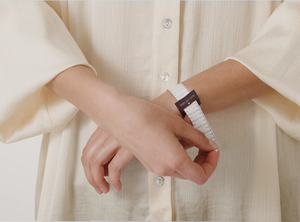 The number that lines up with the edge of the slit is your
wrist size. Follow the chart at the top of the document to identify the correct size for you!
5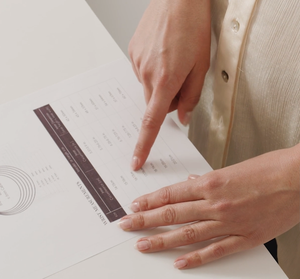 You may also use a tape measure; or if you don't have one, use a small piece of ribbon or cord. Wrap it around your wrist and measure the length against a ruler.
Last thing. Select your size.
From the gates of Versailles to the whitewashed seaports on the Riviera, the French have a way with the sun. It is, in fact, perfectly symbolic of a certain style of living - a life force, a symbol of brilliance and energy, and a future full of possibility. The motif was emblematic enough to be tapped as the insignia of the original St Tropez collection. Rescued from the archive, the shining symbol has been revived and placed at the center of a collection all its own. The Sunflare Collection is a dazzling line of striking jewelry that emits radiant elegance. Naturally, the materials are warm, a cheerful yellow gold tone over brass. A cluster of charms catch the light - dials and discs, spheres and rays, delicately offset with mother of pearl and CZ stones. The collection unfolds as steadily as the hours of a day, the medallions set as necklaces, bracelets, rings and earrings, each as sunny as the last. Strands abound, both thick and delicate chains, with a subtle radial arrangement that mimics the physicality of our nearest star. Debuting for Resort 2022, the irresistible presentation comes at just the right moment in the year - as the days grow shorter and temperatures drop, we invite you to follow the sun.
Material
Base Material
Stainless Steel, PVD
Base Material Color
Yellow
Details
Semi-Precious Stones
Zirconia
Semi-Precious Stones Number
63
Load more
Material
Base Material
Stainless Steel, PVD
Base Material Color
Yellow
Details
Semi-Precious Stones
Zirconia
Semi-Precious Stones Number
85
Load more
Uniquely You
BUILD A CUSTOM BANGLE STACK