How would you like to measure your wrist?
Our bangles and bracelets come in custom sizes because they are designed for an ultracomfortable fit. An accurate measurement will help you get the size that's right for you.
1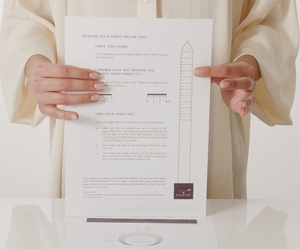 Print the page at the bottom of the file.

Prior to printing, ensure that Page Scaling is set to "None" on your
print dialog box.
2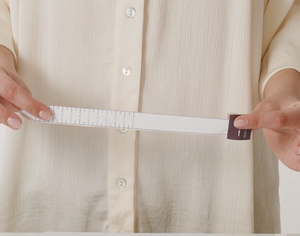 Confirm that you printed the wrist sizer correctly. Measure one of the bars on the page with a ruler to confirm the size is accurate.
3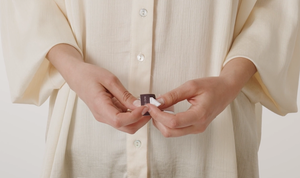 Cut out the paper Wrist Sizer.
Make sure that the numbers are on the outside of the paper Wrist Sizer and insert the pointed end through the slit you have cut at the other end indicated. Place your hand through the Wrist Sizer and pull the pointed end until it fits comfortably on your wrist.
4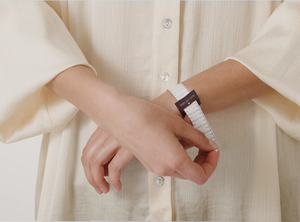 The number that lines up with the edge of the slit is your
wrist size. Follow the chart at the top of the document to identify the correct size for you!
5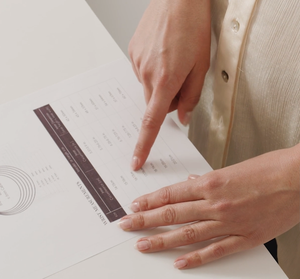 You may also use a tape measure; or if you don't have one, use a small piece of ribbon or cord. Wrap it around your wrist and measure the length against a ruler.
Last thing. Select your size.
Ibiza bangles line was born from the sundrenched isle, Ibiza - a timeless nautical elegance with a drop of balearic sun. An all steel piece of jewelry featuring a hook and eye stylishly capping our 5mm twisted cable. Long before a mass of throbbing crowds set a pulsing rhythm on the sundrenched isle, Ibiza was an ancient outpost caught in the crosswinds of maritime activity. The popular destination boasts a long history of seafaring heritage, as Greeks and Romans, Norwegians and Muslims arrived and conquered the sparse island of pines.  "New Year's Eve at the beach, Holidays in the sun, Christmas in Charriol! What better way to end the year than with a barefoot, salty-haired year-end getaway? All you need is a bikini, a tan and ... a dripping wrist of Charriol. For this holiday season, we're going back to the beach - Europe's most exquisite sandy enclaves served as cues for our new ""Christmas at the beach"" collections Biarritz, Bonifacio and Ibiza. The result is a mix of nautical elements, stylish accents and classic tones that never go out of season."
Uniquely You
BUILD A CUSTOM BANGLE STACK