How would you like to measure your wrist?
Our bangles and bracelets come in custom sizes because they are designed for an ultracomfortable fit. An accurate measurement will help you get the size that's right for you.
1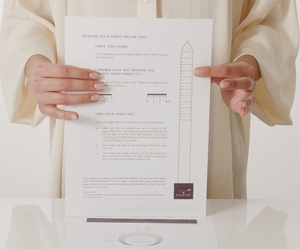 Print the page at the bottom of the file.

Prior to printing, ensure that Page Scaling is set to "None" on your
print dialog box.
2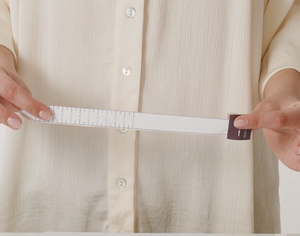 Confirm that you printed the wrist sizer correctly. Measure one of the bars on the page with a ruler to confirm the size is accurate.
3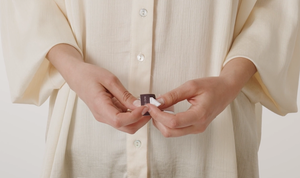 Cut out the paper Wrist Sizer.
Make sure that the numbers are on the outside of the paper Wrist Sizer and insert the pointed end through the slit you have cut at the other end indicated. Place your hand through the Wrist Sizer and pull the pointed end until it fits comfortably on your wrist.
4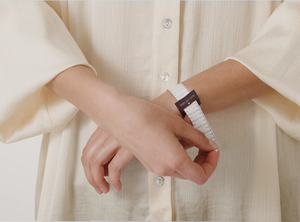 The number that lines up with the edge of the slit is your
wrist size. Follow the chart at the top of the document to identify the correct size for you!
5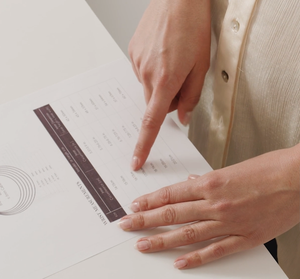 You may also use a tape measure; or if you don't have one, use a small piece of ribbon or cord. Wrap it around your wrist and measure the length against a ruler.
Last thing. Select your size.
8 delicate flowers match with the 3 color cables that signs this Malia bangle. Mounted on a 2mm steel cables, it skillfully combines the symbolic fragility and elegance of white topaz with the strength of silver and steel. All youthful and happy creations, the necklace, bracelet, ring and half hoop earrings are the ideal accessories to add to an ever-fashionable floral outfit.
Material
Base Material
Stainless Steel, PVD
Base Material Color
Yellow
Details
Cable Detail
3x 1.5mm Stainless Steel Cable
Cable Detail Color
Yellow Gold
Semi-Precious Stones
White Topaz
Semi-Precious Stones Number
5
Load more
Material
Base Material
Stainless Steel, PVD
Base Material Color
Yellow
Details
Cable Detail
3x 1.5mm Stainless Steel Cable
Cable Detail Color
Yellow Gold
Semi-Precious Stones
White Topaz
Semi-Precious Stones Number
5
Load more
Uniquely You
BUILD A CUSTOM BANGLE STACK