How would you like to measure your wrist?
Our bangles and bracelets come in custom sizes because they are designed for an ultracomfortable fit. An accurate measurement will help you get the size that's right for you.
1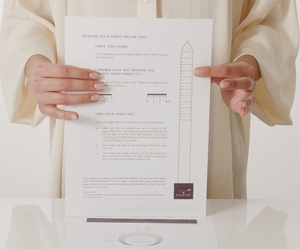 Print the page at the bottom of the file.

Prior to printing, ensure that Page Scaling is set to "None" on your
print dialog box.
2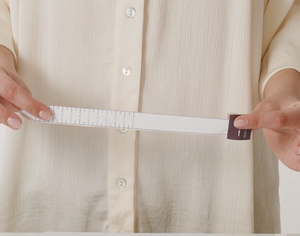 Confirm that you printed the wrist sizer correctly. Measure one of the bars on the page with a ruler to confirm the size is accurate.
3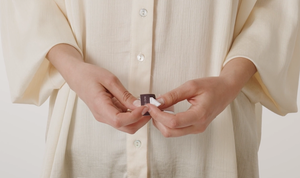 Cut out the paper Wrist Sizer.
Make sure that the numbers are on the outside of the paper Wrist Sizer and insert the pointed end through the slit you have cut at the other end indicated. Place your hand through the Wrist Sizer and pull the pointed end until it fits comfortably on your wrist.
4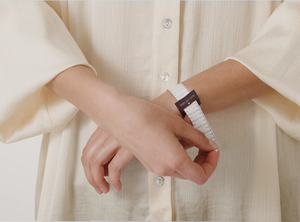 The number that lines up with the edge of the slit is your
wrist size. Follow the chart at the top of the document to identify the correct size for you!
5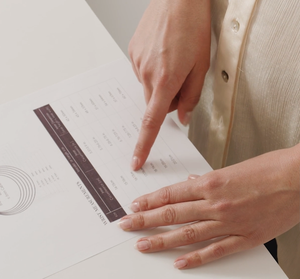 You may also use a tape measure; or if you don't have one, use a small piece of ribbon or cord. Wrap it around your wrist and measure the length against a ruler.
Last thing. Select your size.
For millennia, luck and jewelry have been eternally linked, for a beloved talisman carries the allure of meaning and the power of faith. While the symbols have varied across cultures and styles, their strength is irrefutable. But why choose one when you can have them all? For Fall 2022, Charriol turns to this tradition of ornamental protection and doubles down on it with the Every Lucky Charm Collection. The latest design unites the assorted amulets of good fortune - the Hamsa Hand; the Evil Eye; a Four Leaf Clover; the Wheel of Fortune, the Peace Sign, and the Bell of Good Luck - topped off with the Charriol C, for good measure- under one supercharged Lucky Charm. The result is a handsome offering of daily jewelry that's easy and appealing, yet dense with meaning. Traditionally, talismans are worn around the neck, close to the heart - and the collection is anchored in its necklaces, which come in three variations - a ring, a delicate trio of charms, and dog tags that can be customized with names and dates. Each piece is offered in yellow gold, rose gold and in our trademark stainless steel. The collection rounds out with a matching Forever Bangle, ring and small hoop earrings, also available in three colorways. The effect is eclectic, an auspicious accumulation that offers on-trendy and appealing spirit to any style.
Uniquely You
BUILD A CUSTOM BANGLE STACK