How would you like to measure your wrist?
Our bangles and bracelets come in custom sizes because they are designed for an ultracomfortable fit. An accurate measurement will help you get the size that's right for you.
1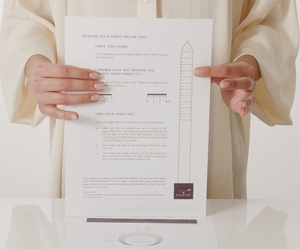 Print the page at the bottom of the file.

Prior to printing, ensure that Page Scaling is set to "None" on your
print dialog box.
2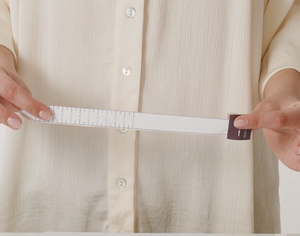 Confirm that you printed the wrist sizer correctly. Measure one of the bars on the page with a ruler to confirm the size is accurate.
3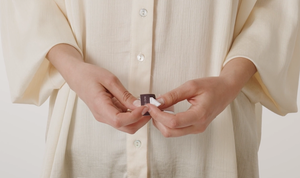 Cut out the paper Wrist Sizer.
Make sure that the numbers are on the outside of the paper Wrist Sizer and insert the pointed end through the slit you have cut at the other end indicated. Place your hand through the Wrist Sizer and pull the pointed end until it fits comfortably on your wrist.
4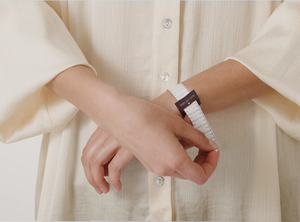 The number that lines up with the edge of the slit is your
wrist size. Follow the chart at the top of the document to identify the correct size for you!
5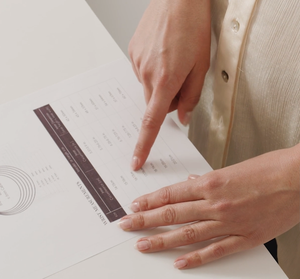 You may also use a tape measure; or if you don't have one, use a small piece of ribbon or cord. Wrap it around your wrist and measure the length against a ruler.
Last thing. Select your size.
Two plump hearts (7.7mm by 9mm) in steel are connected and secured by a discreet clasp on a 2mm diameter black PVD steel cable loop. Coup de Foudre captures the spark of an instant connection, an infinite loop of twisted cable expressing the unshakable force of Cupid's arrow. The combination captures the duality inherent in the experience of early love; his and hers, yin and yang, a polarity that expresses the immediate magnetism of love at first sight. The Coup de Foudre line - like Passion and Attachment lines, is part of our collection dedicated to love, as one of the many steps that tell the beautiful story. From the first furtive glance to the final embrace, love unfolds in verse, each act leading to the next. Flirtations become foundations, caresses become commitments, and if you're lucky, a little glitter and gold will commemorate each step along the way.
Uniquely You
BUILD A CUSTOM BANGLE STACK