How would you like to measure your wrist?
Our bangles and bracelets come in custom sizes because they are designed for an ultracomfortable fit. An accurate measurement will help you get the size that's right for you.
1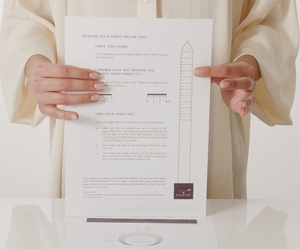 Print the page at the bottom of the file.

Prior to printing, ensure that Page Scaling is set to "None" on your
print dialog box.
2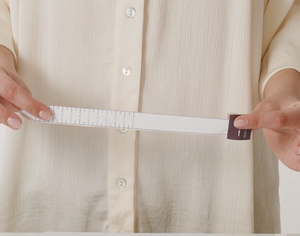 Confirm that you printed the wrist sizer correctly. Measure one of the bars on the page with a ruler to confirm the size is accurate.
3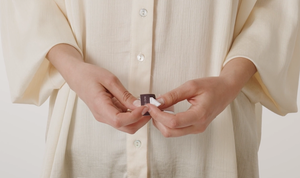 Cut out the paper Wrist Sizer.
Make sure that the numbers are on the outside of the paper Wrist Sizer and insert the pointed end through the slit you have cut at the other end indicated. Place your hand through the Wrist Sizer and pull the pointed end until it fits comfortably on your wrist.
4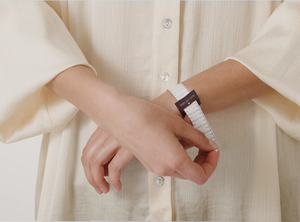 The number that lines up with the edge of the slit is your
wrist size. Follow the chart at the top of the document to identify the correct size for you!
5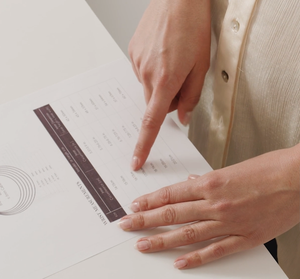 You may also use a tape measure; or if you don't have one, use a small piece of ribbon or cord. Wrap it around your wrist and measure the length against a ruler.
Last thing. Select your size.
The work of artist - and son of founder Philippe - Alexandre Charriol has long been inspired by his travels to Asia and Africa and he often pays tribute to the noble elephant in his paintings. As a tribute to him, and the much-loved animal, Charriol have created two new special editions of our cherished FOREVER bangle, in partnership with NGO Elephant Family as we join the fight to save the Asian elephant from extinction. Crafted in yellow gold PVD-coated steel, this chic bangle features four lines of Charriol's signature twisted steel cable adorned with delicately-crafted elephant and lotus flower motifs. Finished with a discreet hinged closure, this bangle is an elegant homage to the noble animal and its environment. A stylish and emotional accessory, which enables the wearer to show their support for the endangered animal and the natural world as a whole.
Uniquely You
BUILD A CUSTOM BANGLE STACK